My best friend growing up (Ken Spector) is related to Carl Reiner, the executive producer of Seinfeld. I visited Ken in LA many years ago (I'm not sure exactly what year it was, but I think it was around 1995). Ken got VIP tickets for us (Ken, Debbie [Ken's girlfriend] and myself) to watch the taping of one of the Seinfeld episodes. The episode was titled "The Engagement"; it's the one where Elaine is kept up all night by a barking dog. Being VIPs, we were not kicked out after the taping (like the rest of the audience). I got to personally meet all of the actors, shake their hands and talk to them for a short bit. When I pulled out my camera and asked Michael Richards if he would mind a quick photo, he was totally cool about it: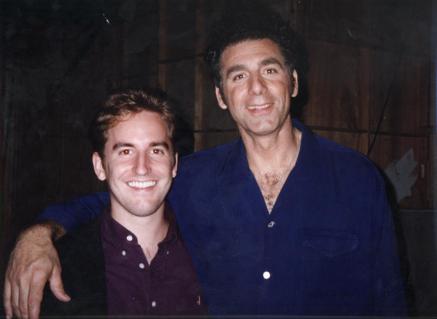 (large version)
(really large version)
He actually hung out with us for what seemed like 10 minutes BS'ing about computers. He was a really nice guy.
It would be cool if I could find out exactly what date that occurred. Anyone know where I might be able to find the exact date that a particular show was taped? I believe the episode was named "The Engagement".